A Student earning $500 – $700 per month by working part-time on the weekend
A part time job is an ideal choice for the majority of students nowadays in order to get real life experience, and also to earn a relatively high income to make ends meet with their daily expenses. For Tran Minh Nguyen – the second year student at The Saigon International University (SIU), his present part time job helps him to get closer to his ambition. Surprisingly, his salary now is in the range of $500 to $700 per month.
When thinking about Tran Minh Nguyen, what comes to students and teachers' mind is he's the student who has talent on playing guitar and the one who always enthusiastically takes part in every extracurricular activity and club organized by SIU.

Tran Minh Nguyen – Student at The Saigon international university
5 interviews and the memorable breakthough
Being instinctively passionate about designing and developing games for a long time, since the beginning of the university year, Tran Minh Nguyen has spent time researching for his future career. The French Gameloft company was his first objective on his way to fulfill his dream – to become a professional game developer.
For those who love technology, the term Gameloft is not a strange one. Gameloft, a top company publishing mobile phone games in the world, is a familiar name to technology lovers. This company has branches in more than 80 countries, including Vietnam. The worldwide working environment at Gameloft attracts a large number of young people wishing to have a job opportunity. Not the exceptional, Tran Minh Nguyen is among those. After many times of not giving up on sending application forms to the company, on a nice sunny day, he got his changes at last. After taking interviews by email twice, face-to-face interviews thrice and training for two months, the young guy, born in 1996, succeed, and officially became the youngest employee of the French Gameloft company.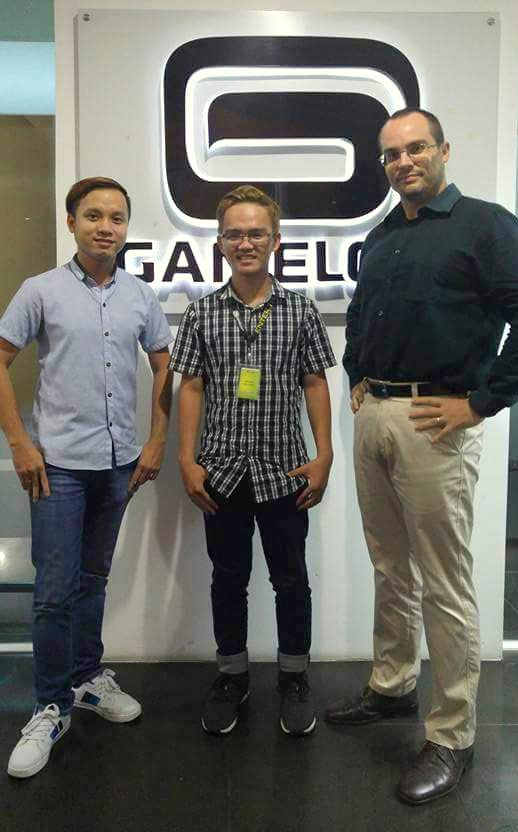 Minh Nguyen (in the middle) and 2 managers of the Gameloft company
On every Friday night and on weekends, when his friends spend time relaxing and entertaining themselves after learning very hard on weekdays, he turns to his beloved part time job. Up to now, Minh Nguyen is still part of Gameloft company and has worked there for a year.
Learn and Practice
Many people learning about Nguyen's story wonder where he got such rich knowledge and incredibly practical experience to get a job from one of the most famous technology companies in Vietnam. In fact, his first lessons at The Saigon International University gave the young student more than what he had expected.
His basic knowledge and fundamental skills gained from the computer science course at The Saigon International University actually helped him take the initiative to familiarize himself with his current working environment. If you have a chance to visit his class, you will easily realize that, in SIU learning environment, lecturers do not only give students useful information but also teach them how to examine, analyze what they learn by themselves as well as how to figure out the lessons by group discussions. Due to those effective teaching methods, Minh Nguyen understands everything and can easily apply what he has learnt to his job in the company. He says "I feel like I'm lucky to have a chance to actually make use of what I have learnt at my university to a real life job; on the other hand, the experience I've got from working in this company really helps me easily picture and comprehend the lessons at university.
Although learning and part-time working are time-consuming, almost lead to a full time schedule every day, the young man still enthusiastically participates in some extracurricular activities at SIU so as to enrich his skills and life experience. Nguyen says: "When taking part in activities, I have got opportunities to meet many teachers and friends. In many events, I have a chance to experience and improve my communication skills effectively. For me, success stems from passion, determination and especially your experience with chances and new things around us."

Minh Nguyen (the second one, from the right to the left) – one of the passionate members of the music club at SIU

Minh Nguyen (the first row, the first one from the left to the right) and his friends on the Halloween day held at SIU.