SIU Commencement 2012
On December 28th 2012, The Saigon International University (SIU) held a solemn and warm graduation ceremony at the City Opera House for the bachelor graduates of course 1 and diploma graduates of courses 1 & 2.
The graduation ceremony was attended by Mr. Phung Anh Tuan – Consul General – Consulate General of Finland; Mr. Bambang Tarsanto Sumosutargio – Consul General – Consulate General of Indonesia; Mr. Nicolas Bergeret – Attaché of Cooperation and Cultural Action – Consulate General of France; Mr. Tadashi Kikuchi – Economic Attaché – Consulate General of Japan; Ms. Nguyen Thi Cam Tu – Commercial Attaché – Consulate General of Canada. In addition, there were also representatives of publishers such as Cambridge University Press, and Oxford University Press – UK, companies sponsoring the SIU internship programs, school's administrators, faculty members, parents, and students of the Group of Asian International Education.
The City Opera House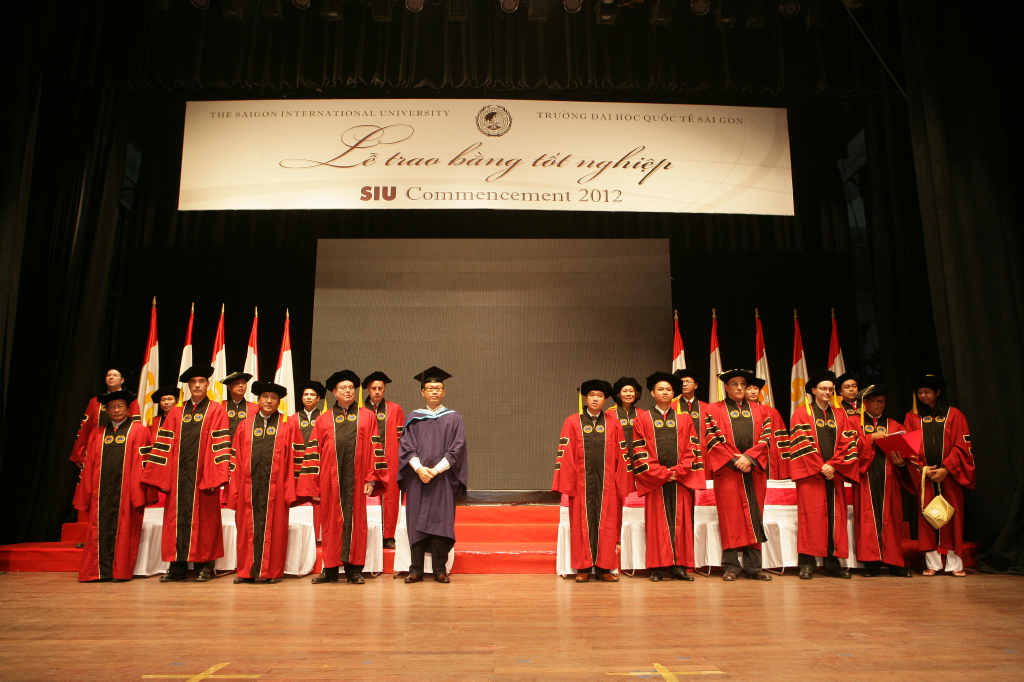 The president and faculty members of The Saigon International University
From early morning, 153 graduating students were present at the City Opera House. They were very happy and proud of their good academic results at The Saigon International University. So, they all were bright and pleased in graduation gowns and took pictures with their families to capture unforgettable moments of their student lives.
The new graduates are present from early morning to attend the graduation ceremony
The graduation ceremony started with a formal and sentimental welcome ceremony. The new graduates were greeted by their families, teachers, friends, and guests with rapturous applause as they entered the hall. The atmosphere became even livelier when the symphonies Double Concerto a Moll and Divertimento No.3 of the well-known composers Antonio Vivaldi and Wolfgang Amadeus Mozart were performed by the Symphony Orchestra of Hochiminh City Music College. This was a triumphant acclamation to congratulate all the new graduates of The Saigon International University.
Symphony Orchestra of Hochiminh City Music College is performing to welcome the new graduates
The graduation ceremony marked the maturity of SIU students after years of study in a modern learning environment based upon American education standards. In his commencement speech, Mr. Douglas Barnes – British Consul General congratulated students who were eligible to receive degrees and hoped that they would soon get stable jobs, promote to the best of their ability and apply the knowledge they learned into their future life and work: "….Finishing university studies is a milestone in every student's life. Exactly how and when the finish occurs may vary but the feelings are the same – a mixture of relief, excitement, anticipation and I hope sadness because you enjoyed University and you will be leaving good friends and good memories behind. It means stepping into the 'new' world of 'a career', which might mean a move away from your parents, sometimes to a new country and nearly always into a situation of greater independence. One of the features of independence is the opportunity to make your own decisions. However, at this point, in your life those decisions as well as many others will start to land firmly with you. The real important question that you now face is 'what am going to do for the rest of my life'?"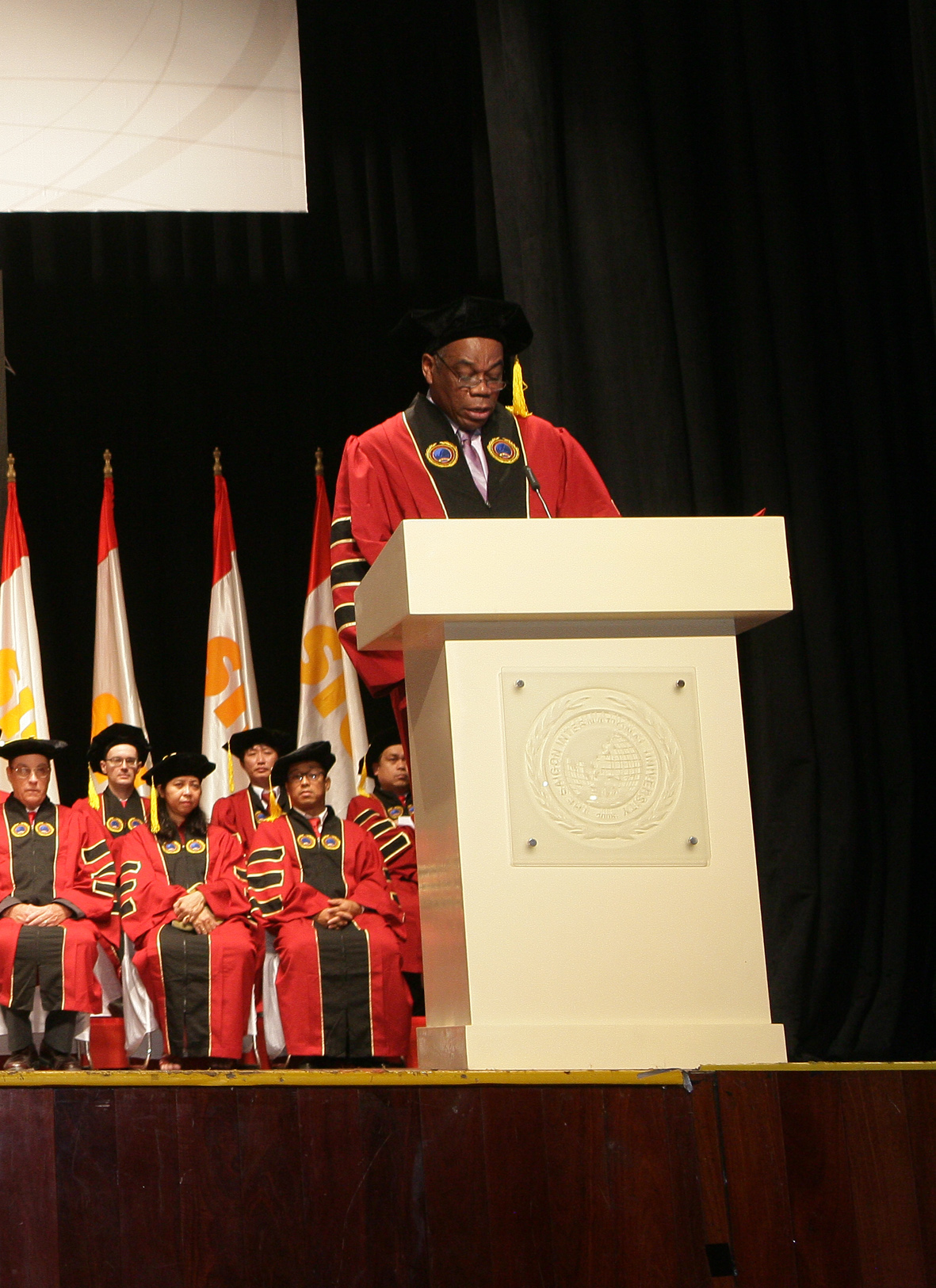 Mr. Douglas Barnes – British Consul General delivers a speech to congratulate graduate students
Representative of The Saigon International University, Dr. Tran Viet Tam – President of SIU awarded certificates of merit, laurel wreaths and congratulatory gifts to Nguyen Thi Phuong Thao, Le Thai Hong Van and Ngo Nguyen Khanh Uyen. These three new graduates had outstanding academic achievements.
Dr. Tran Viet Tam congratulates top graduates of bachelor program – course 1 and diploma program – course 1 & 2
Dr. Tran Viet Tam also awarded medals and certificates of merit to the two new graduates Ta Anh Huy – Sports Club leader and Ho Ngoc Hoang Tam – Art Club leader to recognize their outstanding achievements and dynamic, active participation in club activities of SIU
Dr. Tran Viet Tam awards medals and certificates of merit to Anh Huy and Hoang Tam
The most important moment of the graduation ceremony finally came when all of the graduates proudly went on the stage in turn as their names were announced. Dr. Tran Viet Tam and the professor council officially conferred degrees to 153 new graduates. From that moment on, they were really mature and started a bright future with their contributions and dedication to society and their country.
The new graduates receive their degrees in turn
It was hard to describe all the joy and emotion of the new graduates when they received congratulations, applause and loving hugs from their families, friends, and teachers. The new graduates also received bunches of fresh flowers from The Asian International School's students as their congratulations and respect to the elder generation, wishing them to become excellent citizens who bring pride to not only SIU, but also to GAIE (The Group of Asian International Education).
The new graduates receive flowers from AIS students
On the graduation day, all of the graduates' parents were very proud of their children in beautiful graduation gowns and they were very touched as their children's names were announced. Expressing thanks to the school as well as his right decision when sending his child to SIU, father of student Phan To Ny said: "I would like to say thanks to the lecturers – those who have been teaching our children at The Saigon International University. In my opinion, knowledge which the students have obtained throughout four years here will be the firm basis for their future lives."
Father of student Phan To Ny expresses his feelings on the graduation day of his son
On behalf of all enterprises and companies that sponsored the internship programs for SIU's students – graduation internship and practical internship, Mr. Nguyen Minh Hoang, CEO of Thien Quoc Co., Ltd. highly appreciated the training quality of The Saigon International University. He said: "As an enterprise specializing in producing high-tech products with the world's leading partners in the beverage industry like PepsiCo and Coca, I always keep an eye on every step and advance in training engineers at universities. Not only me, but all entrepreneurs understand that in order to go further in the international market, in addition to finance, management and technology issues, the human factor will play as a primary role in the administration system. This was the thing I shared with you during your internship at my company. I'm also very proud to be working with you. Although it was a quite short time, it made me feel secure that the next generation has all the necessary qualities to master the fierce competition of the current business world. No matter how, after today's ceremony has ended, you will become a cell of the family and country. You will shoulder heavy responsibilities. This world will not be better if people just pursue their own personal interests. I just hope that you will do something useful in your ability for the community and society as well."
Nguyen Minh Hoang – CEO of Thien Quoc Co. makes his speech at the ceremony
During the ceremony, there were also special musical performances which were performed by the new graduates and AIS students as a sincere thanks to guests, teachers, and parents.
"You Raise Me Up" was performed by SIU Band
"Firework" was performed by AIS students
Reflecting the joy and pride of all the new graduates, Nguyen Thi Phuong Thao – an outstanding student of the SIU – represented 153 new graduates to express her feelings. Remembering four years ago when first entering The Saigon International University, Phuong Thao, like other students, was very anxious and worried about what university life would be like. She wondered whether the learning environment would be good or not, and whether teachers and friends would give any support. However, concerns of four years ago have now been replaced by the satisfaction of achievements as well as the guidance and help of the school during the past four years. Now, she was very confident and dynamic and she obtained excellent academic achievements as the top bachelor graduate of course 1, Business Administration major. On behalf of the new graduates, she expressed deep gratitude to teachers, and parents for helping them to become more mature and more responsible for themselves, their families and society: "In order to have this dynamic and friendly learning environment, we would like to thank teachers of the school board who listened to our feedback, built a better learning environment, supported, guided and counseled us whenever we had problems regardless of studying and extracurricular activities. On behalf of all the students here, I would like to say thank to our parents who have nurtured and educated us for more than 20 years, who always stand by, take care of and motivate us. Maybe there were times we were distracted by entertainment activities, disobeyed you, but at heart, we always want you to be happy and proud of us and I hope that today's graduation ceremony can be seen as a small reward for you."
New graduate Nguyen Thi Phuong Thao says thanks to the teachers and parents
In a solemn and spiritual moment, Nguyen Thi Phuong Thao and all the other new graduates gave a pledge which echoed loudly through the hall. All 153 new graduates took the pledge: "As graduates of The Saigon International University, we will honor all who have shared their knowledge with us and will in turn share our knowledge and experience with those who enter our field or come under our direction. Wherever our life may take us, we will use our knowledge, experience and skills to the best of our ability for the well-being of our communities and for the advancement of learning and the public good. We will maintain our competency and keep abreast of developments in our chosen fields. We will conduct ourselves with honesty and integrity, responsibility for our actions and respect for the rights, opinions and dignity of all people. We will strive to better our communities through good citizenship and active participation. We will be a loyal ambassador of our university and will seek to promote its welfare and maintain its reputation.
After the formal graduation recognition and commencement ceremony there was a touching moment as the students stood up, fixed their gowns, put the degrees in front of their chests and bowed to thank the families, and teachers who went along with them in the journey to build up knowledge over the past few years. All were singing the song "We are the world".
The new graduates perform the song "We are the world"
Top students have a picture taken with the Art Club and Sport Club leaders
The graduation ceremony ended with great success. All of the new graduates carried bunches of fresh flowers with radiant smiles, pride, and happiness. The students gained practical experience during years of study at the school through internship programs, extracurricular activities, clubs, and meetings with the strategic planners, policy makers, and leaders of prestigious companies and corporations. All of these things will make it easier for the new graduates to integrate into the practical and dynamic working environment and to be confident to demonstrate their abilities.
The new graduates during picture taking with their families
The graduation ceremony ended with fun and excitement. The degrees are worth rewards for the students' hard efforts during their study at SIU. Graduation is an important and memorable milestone in a student's life as it closes a period of hard study and opens up a new horizon of a better future with many opportunities waiting for them. We wish them all great success in the future!