Seminar on "International Teaching Method"
In the afternoon of 07/05/2014, the Saigon International University held a seminar on "Modern Teaching Methods" attracting the participation of many lecturers and students of SIU. The seminar was held to help lecturers have learning opportunities, share teaching experiences and to exchange and discuss international teaching methods. It also helped lecturers build solutions with innovative teaching methods in order to improve the quality of teaching and learning at SIU.
The seminar focuse on exchanging information on practical issues in the teaching process at the university. The lecturers presented their proposals and shared modern teaching methods with their colleagues and students.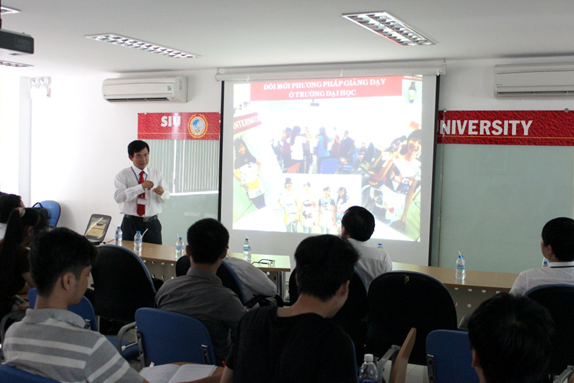 Nguyen Van My MA presents a subject on "Innovating Teaching Methods at University"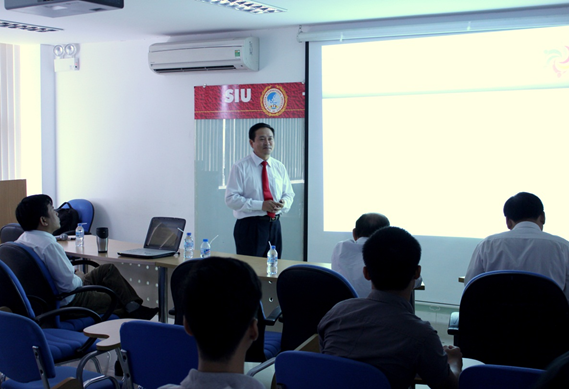 MA. Vong Thinh Nam with a special subject " group work"
The seminar was exciting because the lecturers and students enthusiastically gave their opinions. Many innovative teaching methods was presented including a teaching method that combined presentations and other modern teaching methods. Applying these methods will help to stimulate the active role of students in research, collation of learning material and observation of practical activities at enterprises so that the students will be able to analyze, synthesize and evaluate problems and make reports.
These methods were evaluated by the student attending as effective and practical methods which gave them necessary soft skills such as teamwork, leadership, presentation, critical thinking,and problem solving. These skills are prerequisite for the students to comprehend new knowledge and integrate with global business .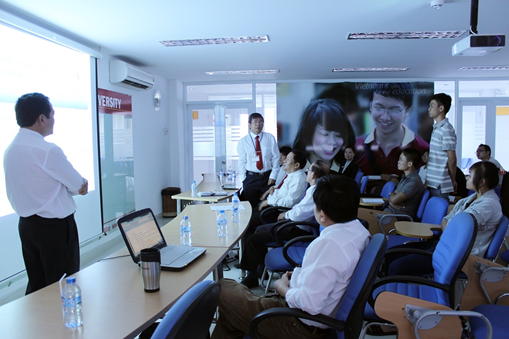 The exciting discussion atmosphere between lecturers and students

Lecturers enthusiastically share their experiences and propose teaching methods
At the seminar, the lecturers outlined the advantages and disadvantages of each teaching methods which are being applied. After that, they proposed solutions to create superior teaching methods.
The Saigon International University will again hold the seminar on "Modern Teaching Methods" on May 28, 2014 and October 19, 2014. With efforts to improve the quality of teaching and applying international teaching methods to the modern learning environment at SIU, this is a necessary and useful event which helps its students improve their soft skills to meet the requirements of employers as well as improve their job skills in the future.