Practical tour to Yakult Vietnam
Yakult is a leading drinks company, with over 75 years experience in various countries around the globe. Yakult came into operation in VN in 2008 with a 65 ml type of fermented milk drink containing a minimum of 6.5 billion cells of a unique strain of bacteria.

On Friday morning, March 26, 2013, The Saigon International University organized a practical tour for students of course V to Yakult Viet Nam at the Vietnam Singapore Industrial Park (VSIP), in Binh Duong Province.
This practical tour not only provided SIU students with valuable knowledge but also helped them get real experience outside the classrooms.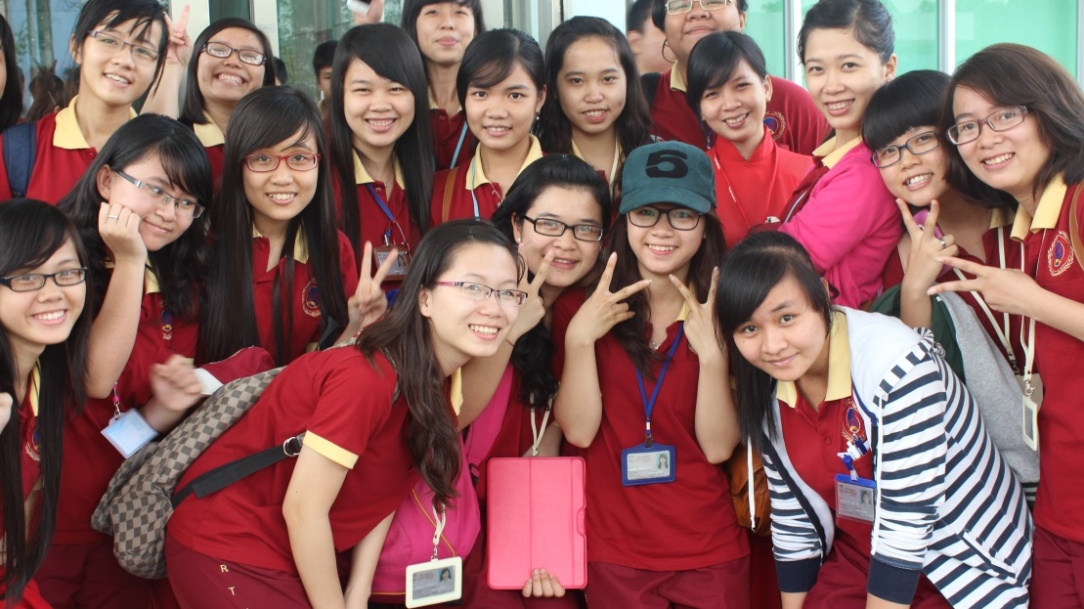 Students of course 5 excited about the tour
School buses set off early in the morning and all students were eager to see one of the most modern assembly lines in VN. The students realized that this trip would not simply be an extra- curricular activity, but it would be a valuable lesson.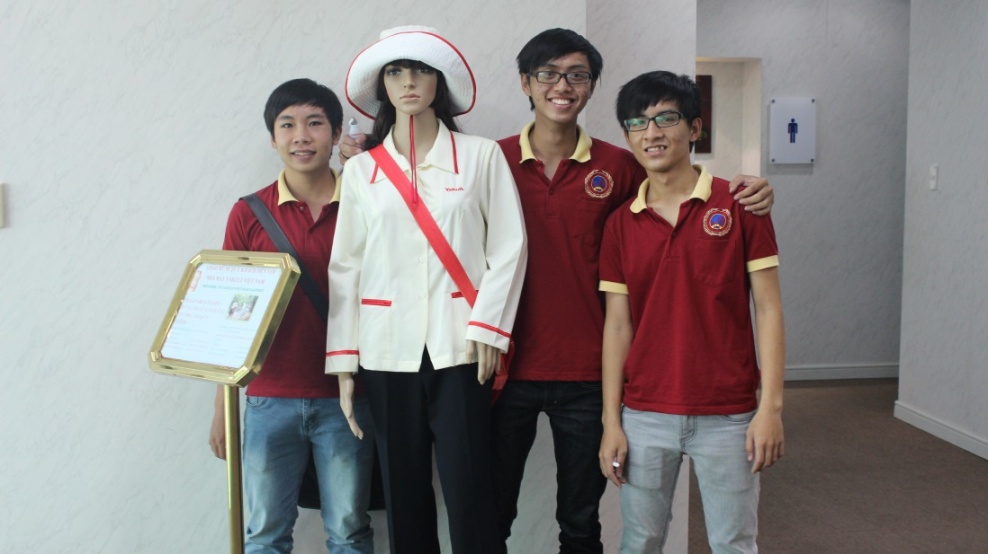 SIU students posed for a photo at Yakult
Firstly, Students had a guided tour of Yakult and watched short video clips about the successful creation of the Yakult drink and its positive health effects. Then, students enjoyed Yakult products and were instructed to classify types of waste according to bottle types.
Yakult branches around the world were shown to the students
SIU students perusing information about Yakult
What the students anticipated most was viewing the factory assembly line – designed to flexibly increase productivity. Furthermore, Yakult is well equipped with microscopes to help students know more about the world of microorganisms and to be able to classify good and bad bacteria. All the students were amazed by what they discovered.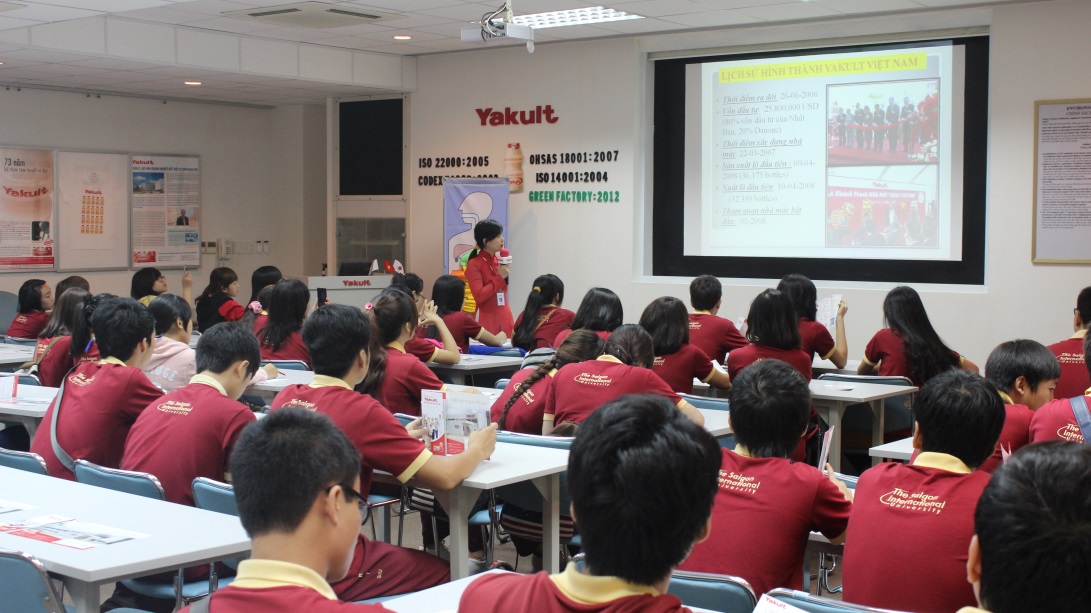 SIU students learning about Yakult's history
Finally, students were shown the processes of bottle sterilization, extraction and labeling to bring Yakult bottled products to the required standard.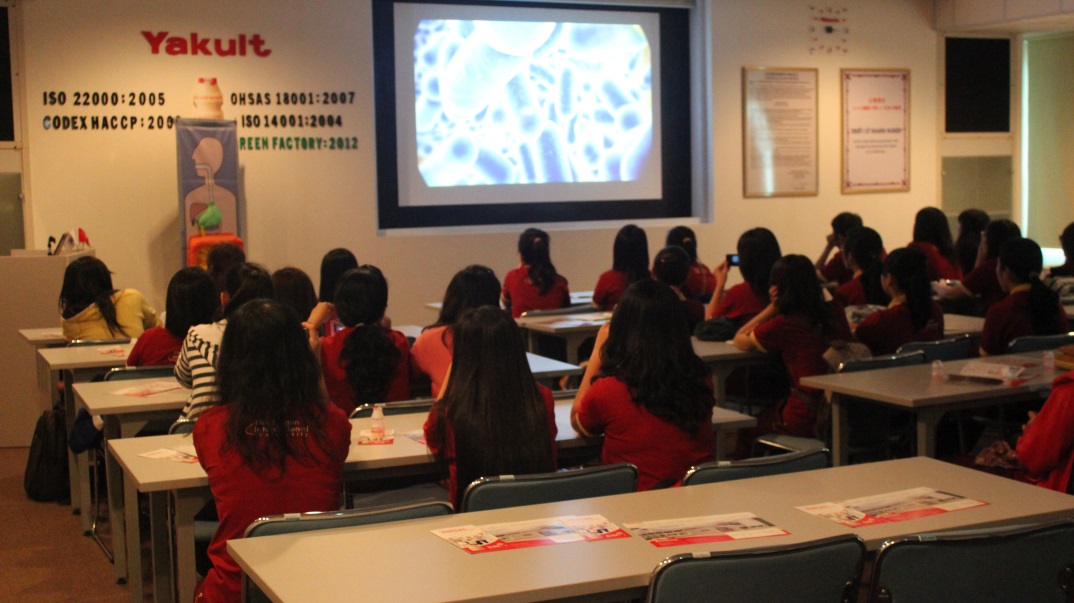 Students watching a video about the Yakult production process
All the students felt delighted with what they learnt from this trip. They had an opportunity to view applications of production technology, professional operation by engineers, and Yakult's modern working style.
This practical visit to Yakult Viet Nam provided SIU students with a precious opportunity to illustrate the implementation of concepts and skills learned at SIU and complement that learning with real experience.
Perceived by students:
Nguyen Phuong Anh – Bachelor program in Business Administration (Course 5)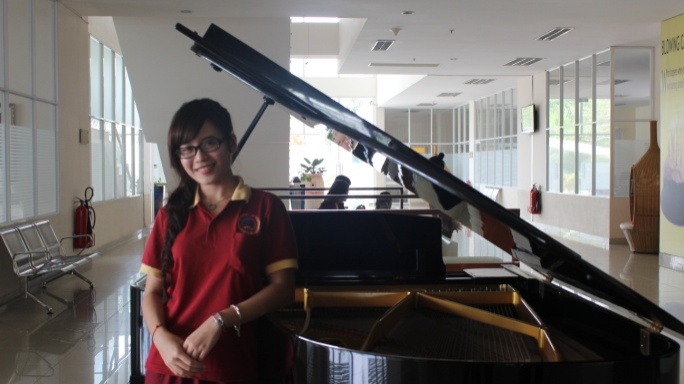 "My classmates and I really enjoyed this trip. We know how to better take care of ourselves after this trip. I liked this modern factory with two Japanese experts along with a team of Vietnamese engineers operating the whole system of fermentation. A small bottle of Yakult must go through a series of steps from quality control to packaging before coming to consumers. This visit brought me thoughts of applying scientific research into practice for the purpose of social health services".
Dang Thi Viet Ha – Bachelor program in Business Administration (Course 5)
"What an exciting trip! This is the first time we have seen a highly automatic production line in one of the most modern factories in South East Asia. We also had the opportunity to enjoy Yakult products and have a better understanding of the origin of Yakult and its effects on human health. I would like to express my thanks to SIU for holding this interesting trip".
Nguyen Thi Hong Vy – Bachelor program in Business Administration (Course 5)
"The trip helped us to learn more about a professional working environment and get more information about Yakult's history. I hope SIU will hold more practical tours so that we can get more real experience in the working world".
Nguyen Minh Hoang – Bachelor program in Business Administration (Course 5)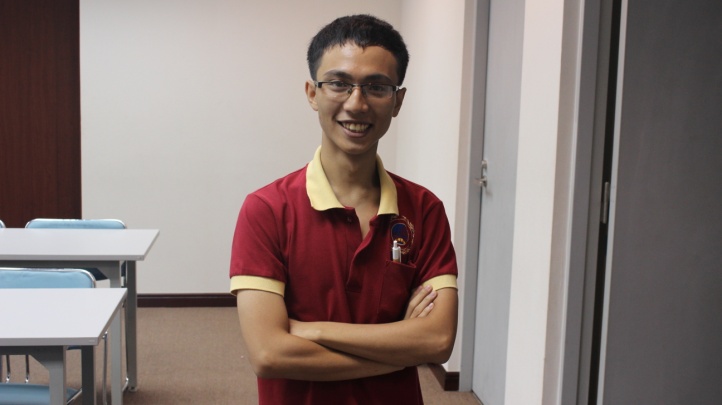 "We had a helpful and interesting field trip. The Yakult factory and its modern production assembly line impressed me. Furthermore, we had a chance to meet Yakult staff and engineers to obtain more knowledge from them".
Nguyen Thi Lan Anh – Bachelor program in Business Administration (Course 5)
"It was really an interesting trip on which I could improve my knowledge. I hope SIU will hold more trips like this so that we can obtain more real experience outside the classrooms".