Magnificent Halloween at SIU
Tuesday evening of November 31, 2012, a magnificent Halloween took place at the campus of the Saigon International University drawing a sea of students. It was a great chance for students of all courses to get to know one another, enquire about western cultural activities and demonstrate their dynamism and creativity.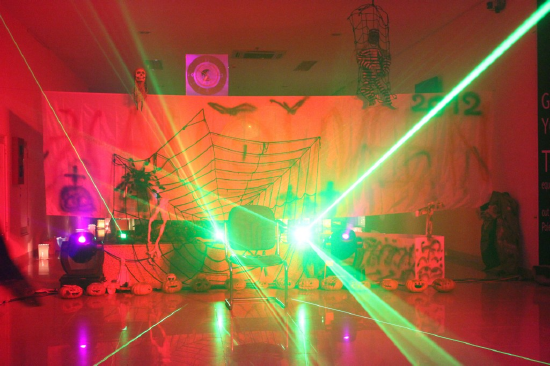 The Stage – Halloween 2012
Halloween 2012 got warmed up by the "Prince and Princess" selection campaign on SIU website. This campaign aimed to celebrate the most exemplary SIU students with excellent academic results, and enthusiasm and creativity in extra-curricular activities. The Crown of Prince and Princess Award this year went to Nguyen Phuoc Bao Hung and Do Thi Bich Tram who beat other candidates with 484 votes for the prince and 1017 for the princess.
| | |
| --- | --- |
| | |
| "Princess" Bich Tram | "Prince" Bao Hung (in blue) |
Early in Halloween morning, students arrived to the campus to decorate the stage with pumpkins engraved with ghost faces, huge deadly spiders, and coffins creating a scary and mysterious setting. Students desired to demonstrate their talent, making the night a colorful and magnificent event. SIU alumnus Pham Ngoc Hoang began the festival with the song "Broken Moon." It was warmly received, getting big rounds of applause.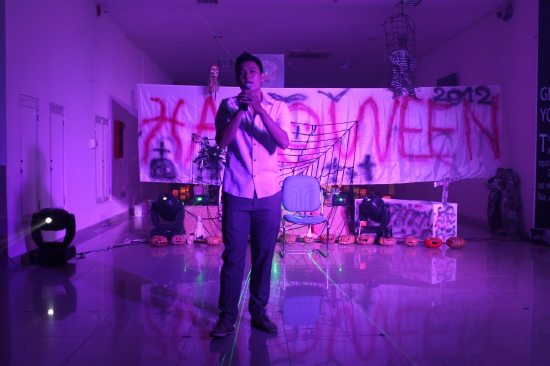 SIU alumnus Ngoc Hoang with the song "Broken Moon"
The atmosphere heated up with spirited Halloween performances as "Find My Own Soul", "Dangerous", "Love and Devil". With the synthesis of horrifying sounds and lighting effects, student's performances really impressed the audience.
"Love and Devil" from class 11DKD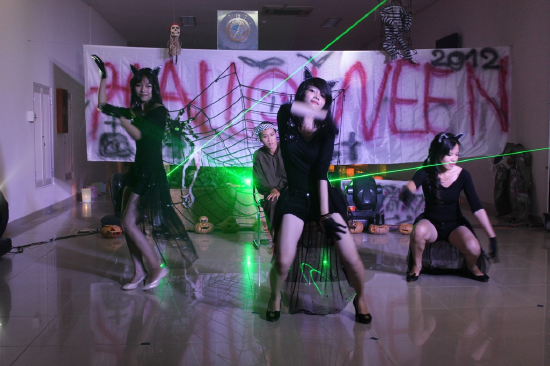 " Find My Own Soul" from class 10DKD
"Dangerous" from class 10CKD
"The Phantom of the Opera", a musical play with its sweet, romantic melody and edgy, gentle emotional rhythm really captured the mind and soul of the audience. This item was artistically casted and conducted by the members of SIU Art Club.
"The Phantom of the Opera" from SIU Art Club members
A joyful and colorful performance of "Journey to SIU" triggered laughter from the audience. This was attractively adopted from the famous Chinese work "Journey to the West" with many historical characters like the mandarin Bao Gong, the bodyguard Zhan Zhao, the secretary Gongsun Ce, the monk Xuanzang, the monkey Sun Wukong, the pig Zhu Bajie and the buffalo Sha Wujing, etc. The applause and cheers from the audience made the Halloween atmosphere charming.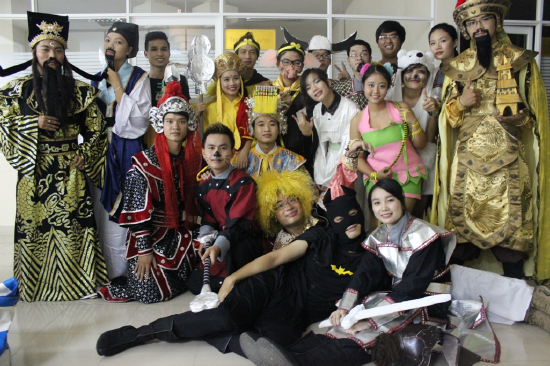 "Journey to SIU" from class 09DKD
Halloween ended leaving both the participants and audience delighted. The creative and amazing performances left good feelings with everyone attending this colorful, impressive event. Participants, both past and present SIU students, demonstrated both creative energy and inspiration.